Monthly GP Activity Data
There has been a lot of comment in the media on "when will my GP surgery open again?"
We want to reassure you that at Bron-Y-Garn Surgery we have been open throughout and have been busier than ever before".
Our standard consultation is "face to face" but if you'd prefer a telephone call instead just let us know. Although things have changed slightly in the way we offer appointments; we encourage routine appointments to be pre-booked ahead with urgent/emergency problems being dealt with on the day. General practice appointment bookings reached record highs over the winter of 2021 and this has continued to increase and we are expecting a busy winter. To manage this demand, you may be advised to visit another healthcare professional in the way of the pharmacist, physiotherapist or optician. We understand you may feel frustrated but the health service has been overwhelmed which has continued post Covid and we are doing our best as a practice to manage this overload. We want to thank all our patients for their support with these changes.
Here is our monthly activity information. As you can see each month there are a lot of appointments where a patient "Did Not Attend". If you cannot make your appointment, we politely ask if you could let us know. The easiest way to do this is to phone our cancellation line on 01656 812975 and leave a message (you can save this number to your phone as it's a different number to the practice). Help us to help everyone.
July 2023 - Activity Data
6,853 patients
Calls handled by reception: 6728
Telephone appointments: 709
Face to face appointments: 3604
Hospital referrals: 384
Items issues via prescription: 12309
Vaccinations (including: childhood, flu, pneumococcal, shingles): 98
Administrative communications including digital requests: 12690
Did Not Attend appointment: 139
Long term condition reviews: 265
June 2023 - Activity Data
Calls handled by reception: 7502
Telephone appointments: 722
Face to face appointments: 3840
Hospital referrals: 505
Items issues via prescription: 13074
Vaccinations (including: childhood, flu, pneumococcal, shingles): 91
Administrative communications including digital requests: 13639
Did Not Attend appointment: 166
Long term condition reviews: 228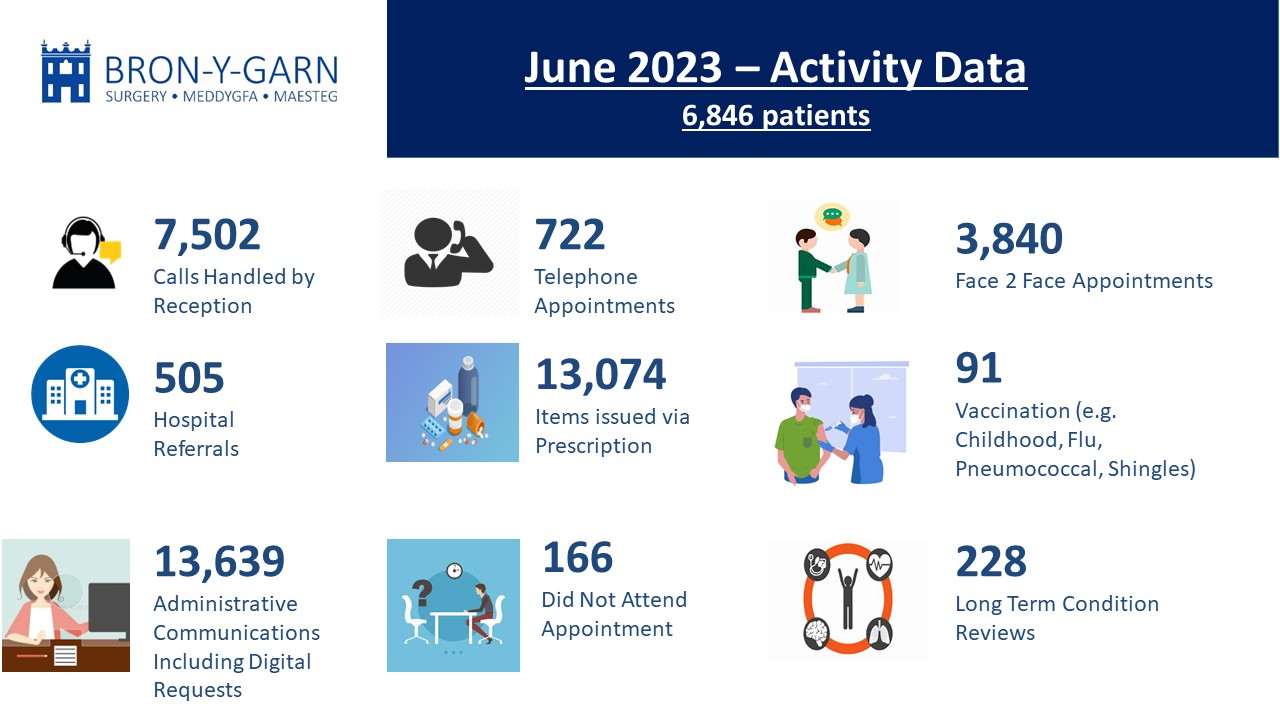 May 2023 - Activity Data
6,847 patients
Calls handled by reception: 7111
Telephone appointments: 720
Face to face appointments: 3720
Hospital referrals: 288
Items issues via prescription: 13293
Vaccinations (including: childhood, flu, pneumococcal, shingles): 80
Administrative communications including digital requests: 12390
Did Not Attend appointment: 182
Long term condition reviews: 236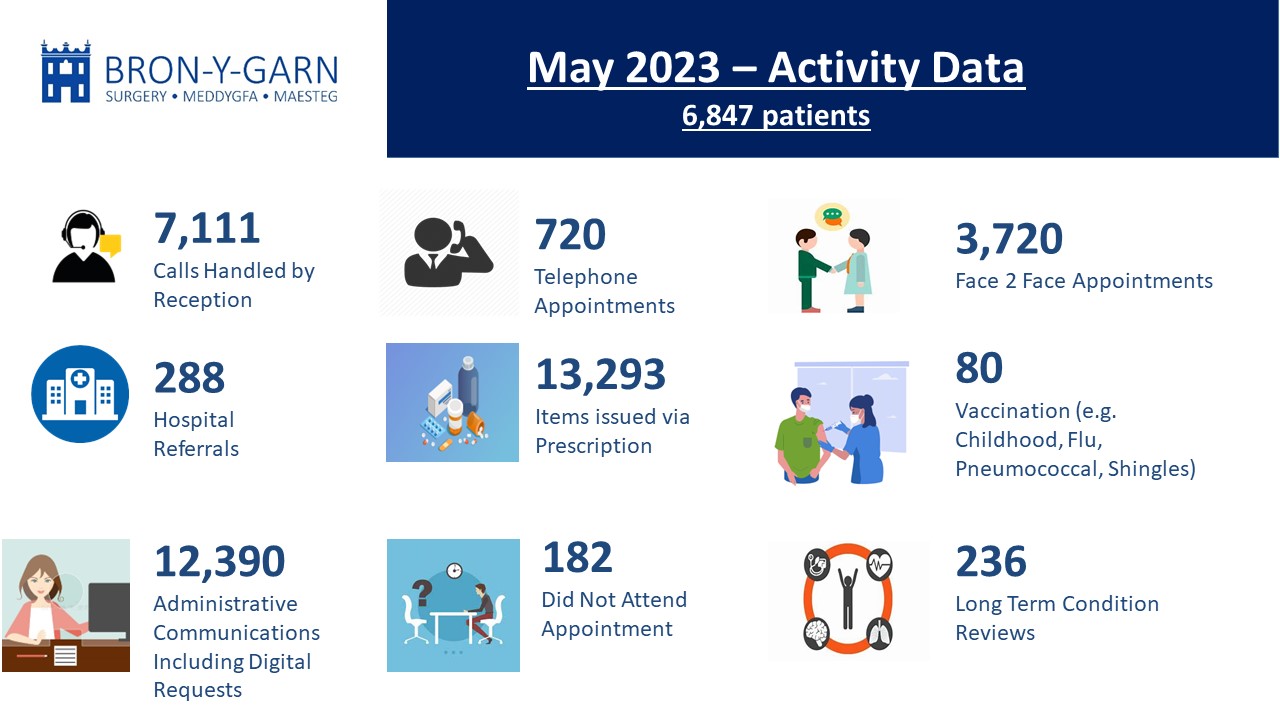 April 2023 - Activity Data
6,841 patients
Calls handled by reception: 7005
Telephone appointments: 638
Face to face appointments: 3265
Hospital referrals: 287
Items issues via prescription: 11500
Vaccinations (including: childhood, flu, pneumococcal, shingles): 76
Administrative communications including digital requests: 11041
Did Not Attend appointment: 152
Long term condition reviews: 232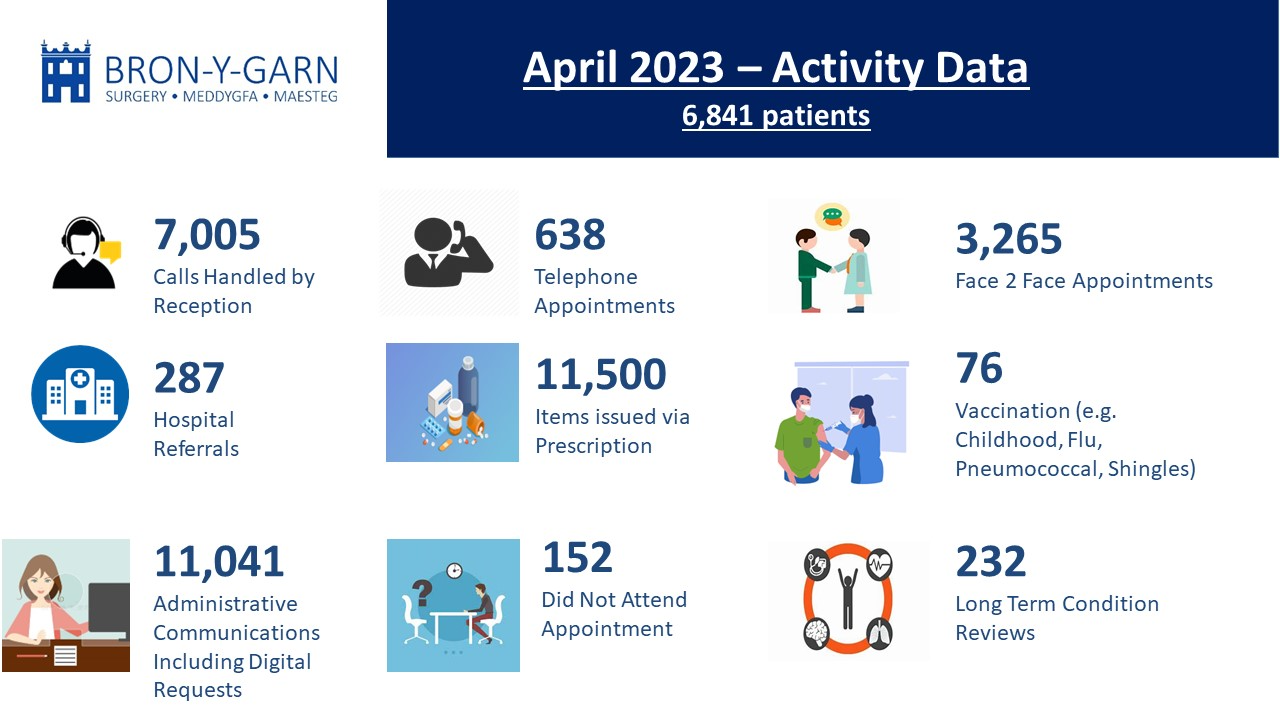 March 2023 - Activity Data
6,859 Patients
Calls handled by reception: 6995
Telephone appointments: 879
Face to face appointments: 4070
Hospital referrals: 427
Items issues via prescription: 14562
Vaccinations (including: childhood, flu, pneumococcal, shingles): 73
Administrative communications including digital requests: 13239
Did Not Attend appointment: 236
Long term condition reviews: 231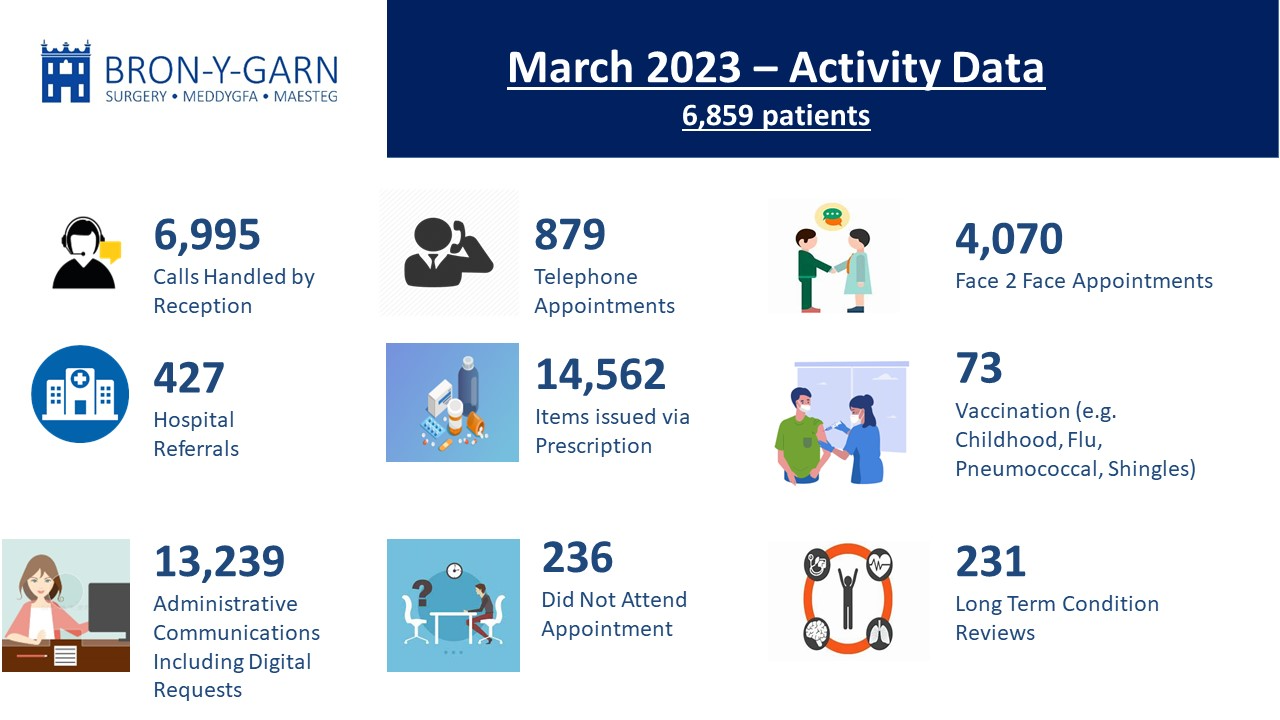 February 2023 - Activity Data
6,835 Patients
Calls handled by reception: 9792
Telephone appointments: 740
Face to face appointments: 3166
Hospital referrals: 297
Items issues via prescription: 11398
Vaccinations (including: childhood, flu, pneumococcal, shingles): 95
Administrative communications including digital requests: 11476
Did Not Attend appointment: 198
Long term condition reviews: 191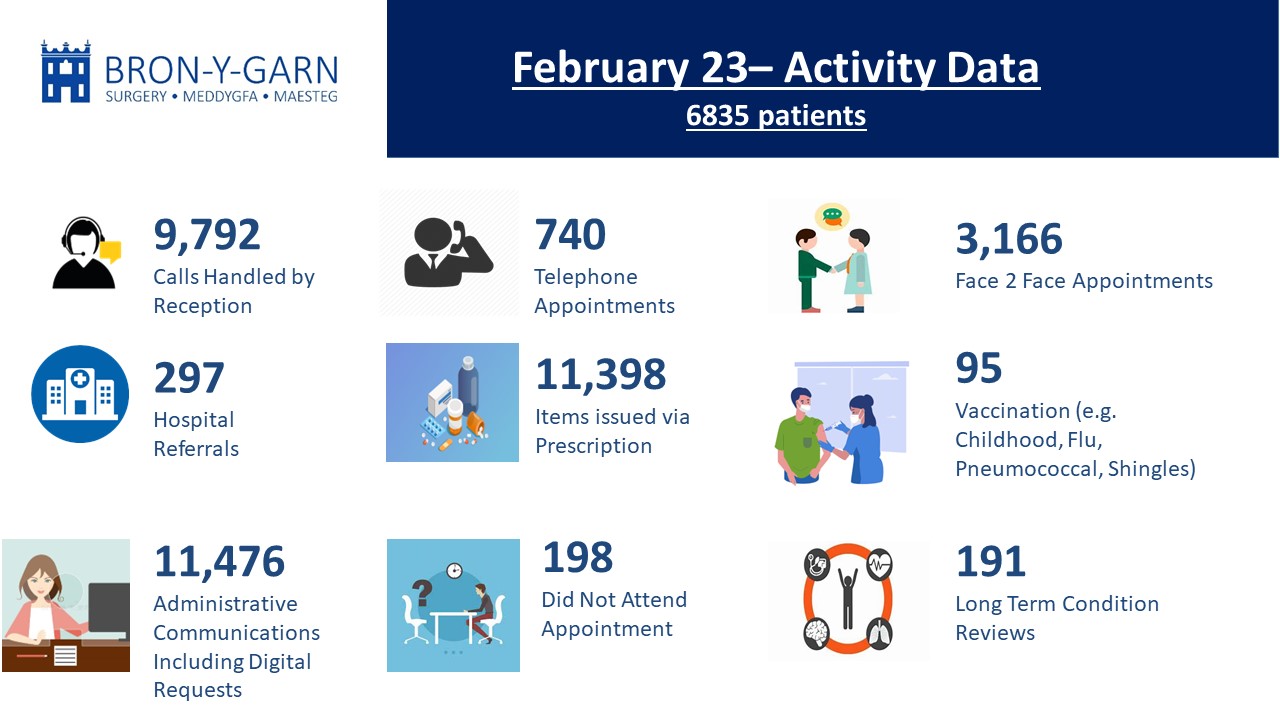 January 2023 - Activity Data
6,814 Patients
Calls handled by reception: 8423
Telephone appointments: 918
Face to face appointments: 3263
Hospital referrals: 297
Items issues via prescription: 12748
Vaccinations (including: childhood, flu, pneumococcal, shingles): 96
Administrative communications including digital requests: 10796
Did Not Attend appointment: 167
Long term condition reviews: 166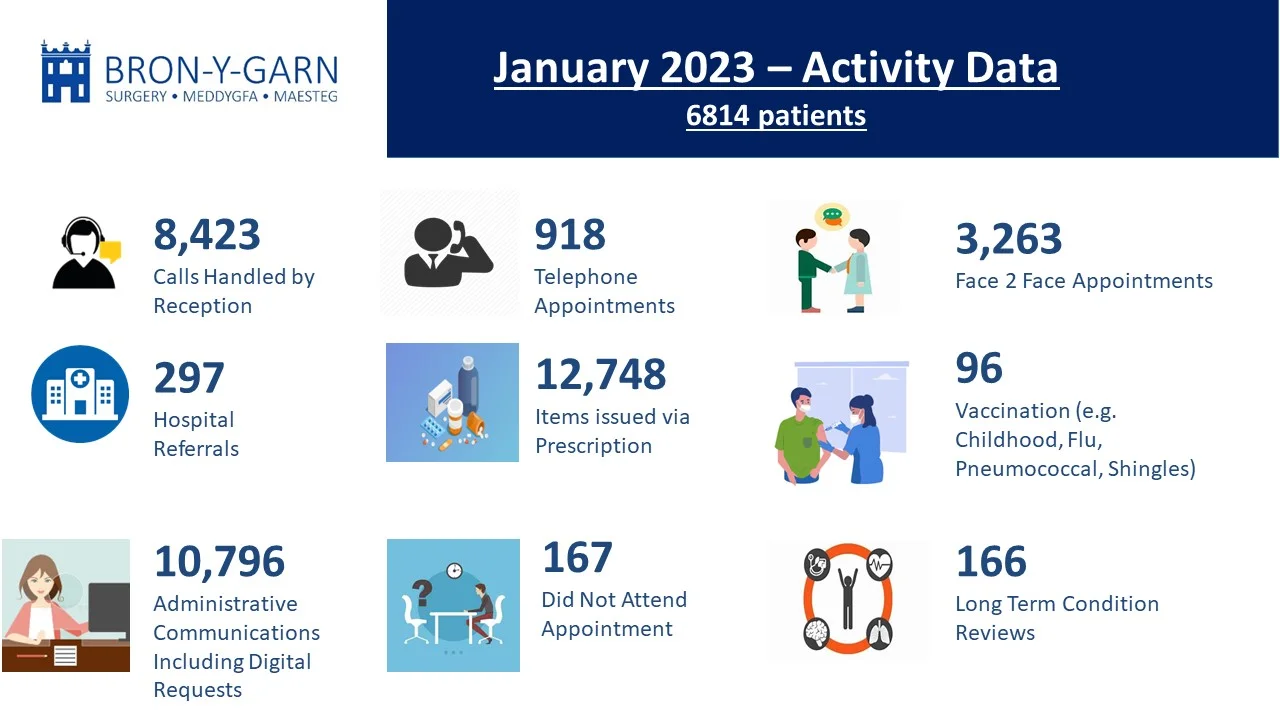 December 2022 - Activity Data
6,825 patients
Calls handled by reception: 8,375
Telephone appointments: 1,125
Face-to-face appointments: 3,934
Hospital referrals: 338
Items issues via prescription: 13,478
Vaccinations (including: childhood, flu, pneumococcal, shingles): 184
Administrative communications including digital requests: 12,042
Did Not Attend appointment: 238
Long term condition reviews: 231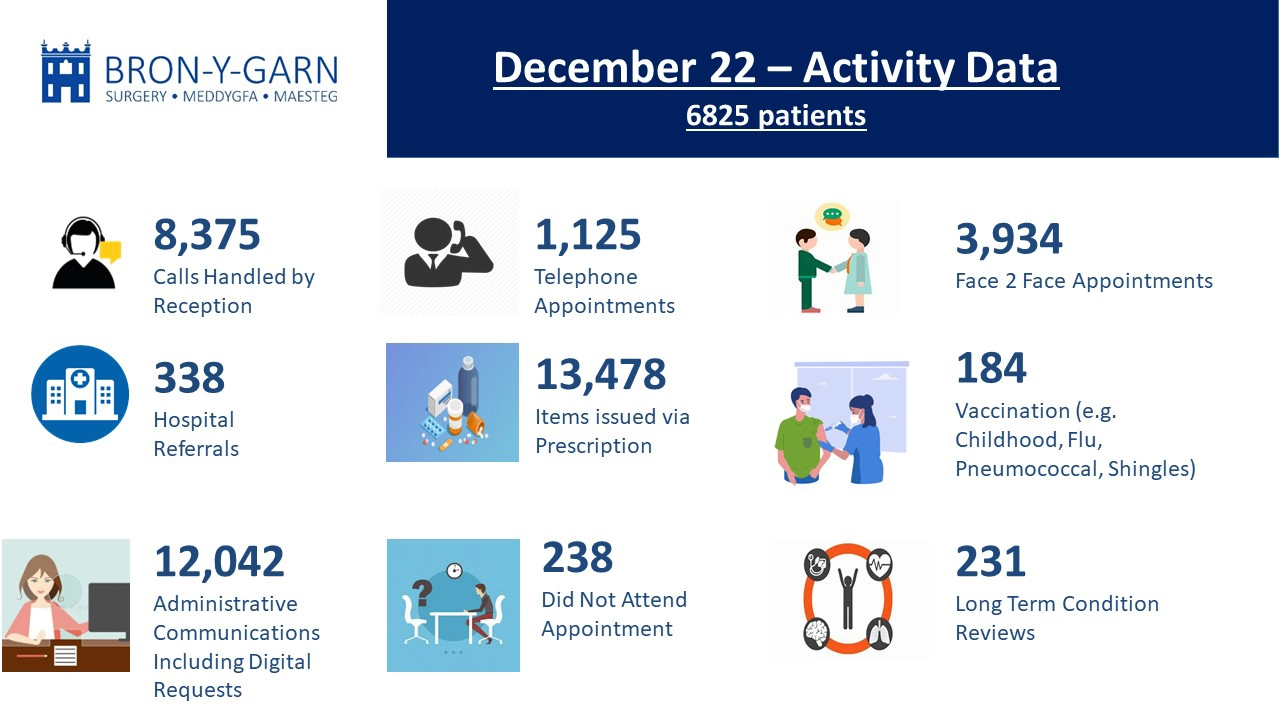 November 2022 - Activity Data
6,787 patients
Calls handles by reception: 8,494
Telephone appointments: 1,001
Face to face appointments: 4,252
Hospital referrals: 426
Items issues via prescription: 12,458
Vaccinations (including: childhood, flu, pneumococcal, shingles): 424
Administrative communications including digital requests: 12,163
Did Not Attend appointment: 274
Long term condition reviews: 294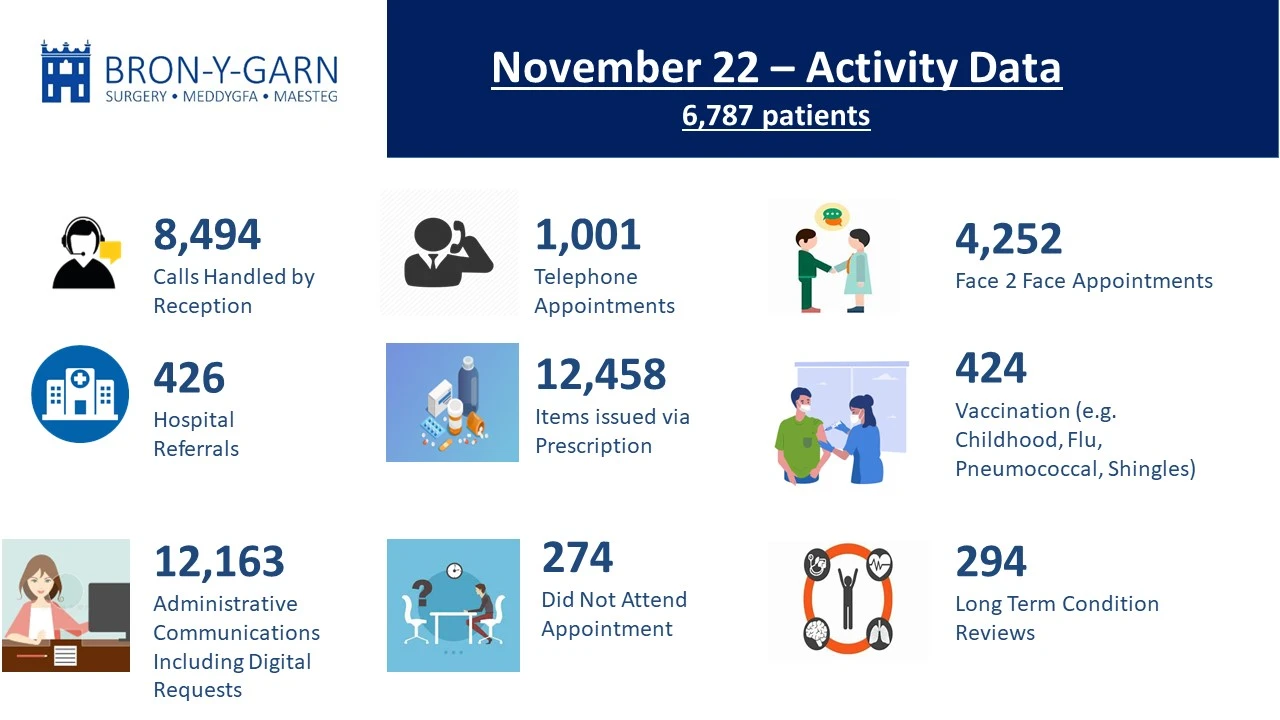 October 2022 - Activity Data
6,780 patients
Calls handles by reception: 9,127
Telephone appointments: 763
Face to face appointments: 4,561
Hospital referrals: 426
Items issues via prescription: 11,458
Vaccinations (including: childhood, flu, pneumococcal, shingles): 1,514
Administrative communications including digital requests: 12,163
Did Not Attend appointment: 305
Long term condition reviews: 359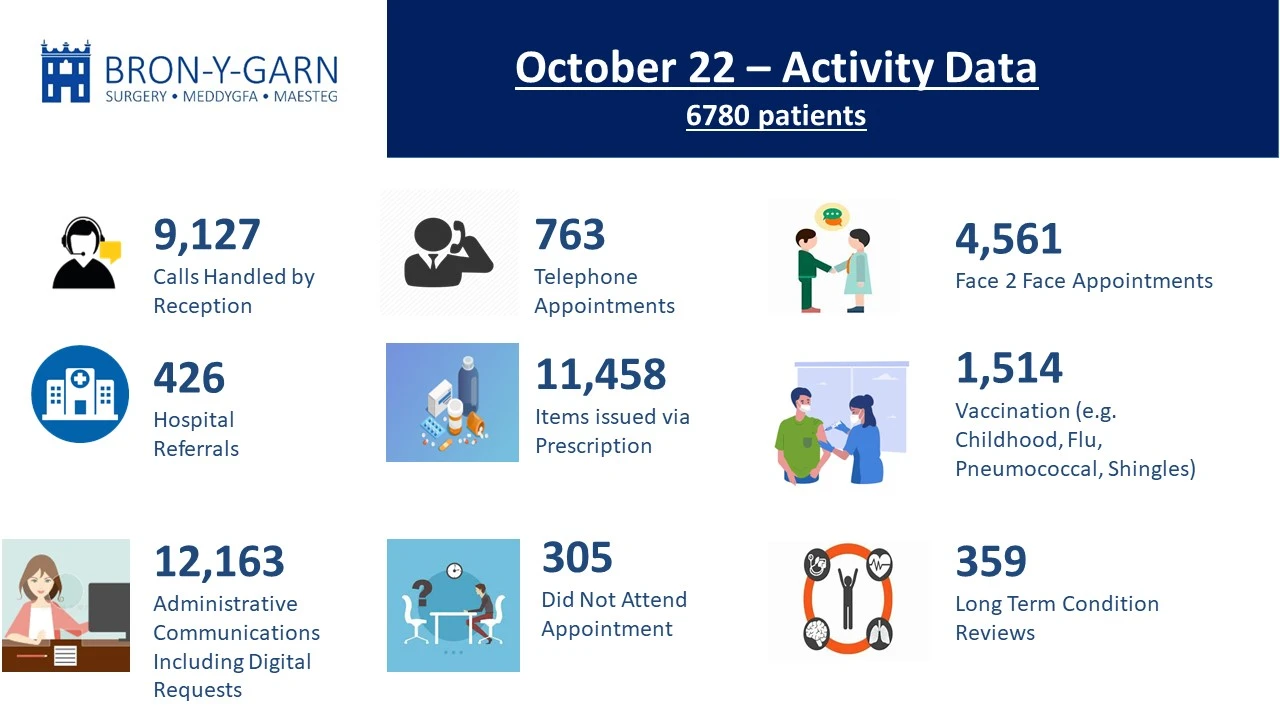 September 2022 - Activity Data
6,756 patients
Calls handles by reception: 9,164
Telephone appointments: 715
Face to face appointments: 3,921
Hospital referrals: 225
Items issues via prescription: 13,452
Vaccinations (including: childhood, flu, pneumococcal, shingles): 181
Administrative communications including digital requests: 11,533
Did Not Attend appointment: 243
Long term condition reviews: 365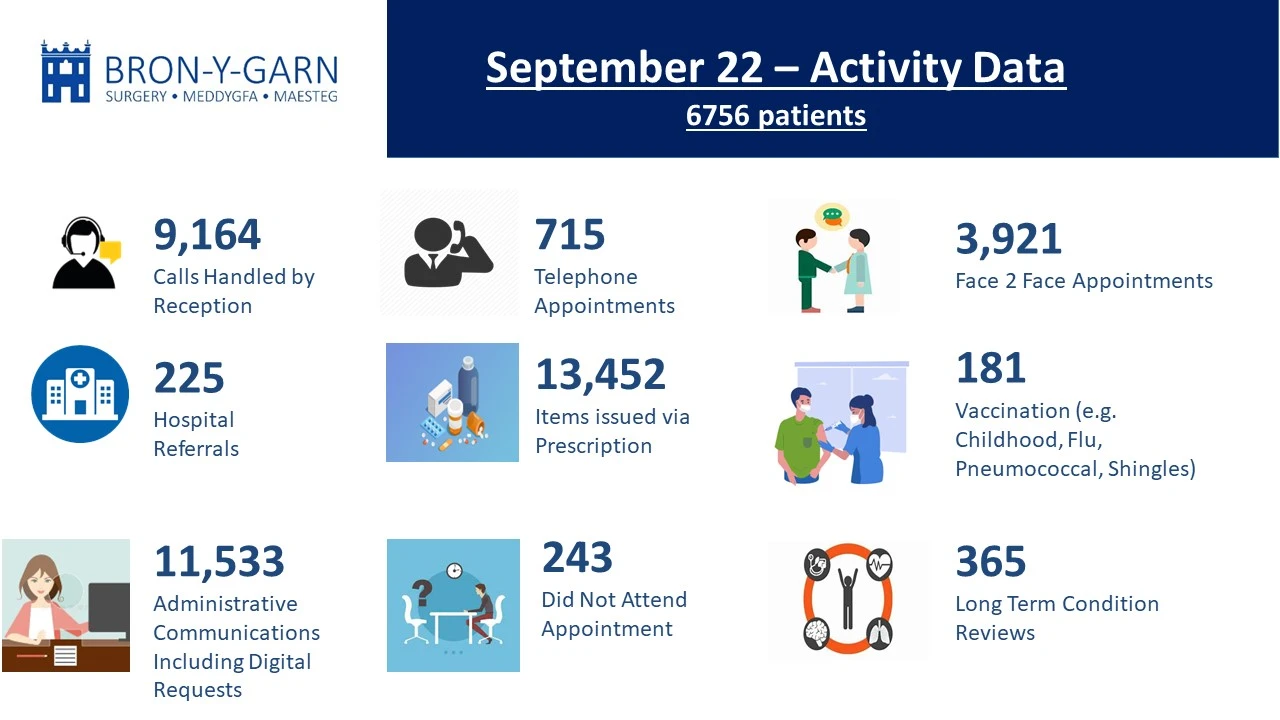 August 2022 - Activity Data
6,735 patients
Calls handles by reception: 8,590
Telephone appointments: 729
Face to face appointments: 3,746
Hospital referrals: 356
Items issues via prescription: 13,941
Vaccinations (including: childhood, flu, pneumococcal, shingles): 98
Administrative communications including digital requests: 11,148
Did Not Attend appointment: 225
Long term condition reviews: 319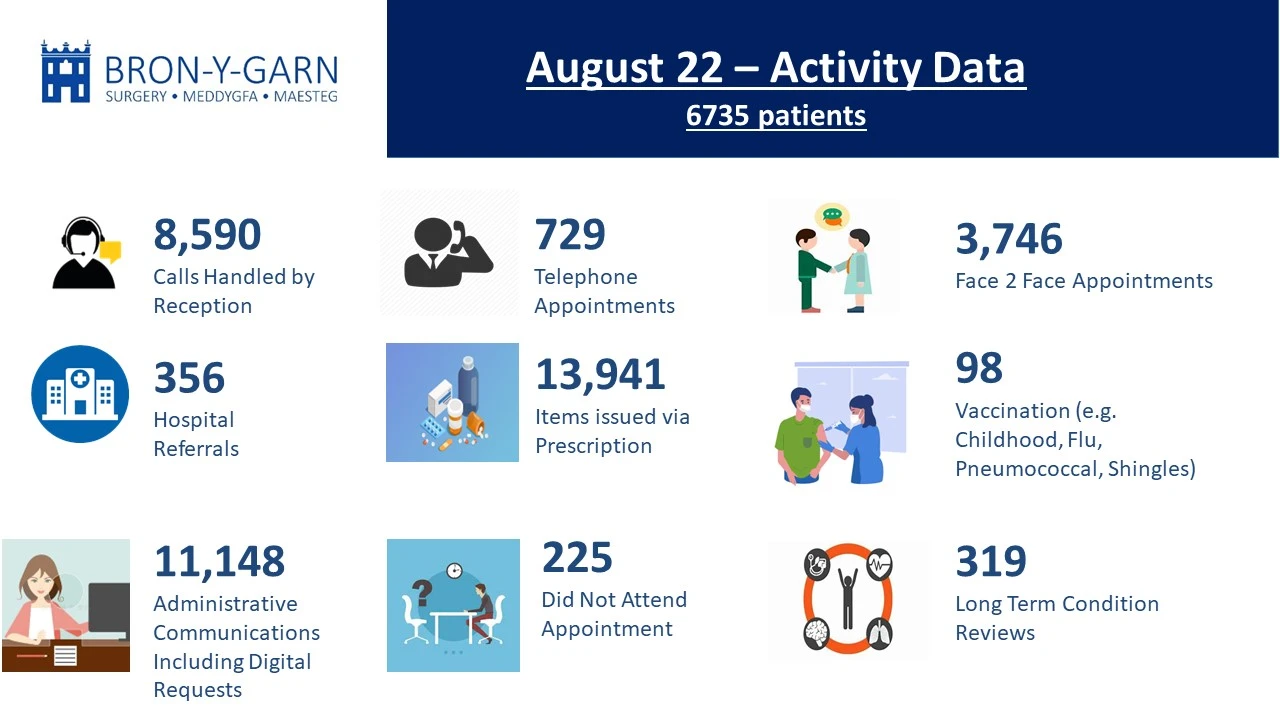 July 2022 - Activity Data
6,699 patients
Calls handles by reception: 7,987
Telephone appointments: 736
Face to face appointments: 3,528
Hospital referrals: 333
Items issues via prescription: 12,977
Vaccinations (including: childhood, flu, pneumococcal, shingles): 70
Administrative communications including digital requests: 12,670
Did Not Attend appointment: 163
Long term condition reviews: 271